Oceanize, together with AQUA Group and PLASTO, will break down the barriers to the use of recycled plastic in fish farms.
The entire cage will now be composed of recycled materials in a development project that has just been allocated funds from the Trade's environmental fund. The Trade's Environmental Fund supports projects that aim to increase the use of recycled plastic resources, and the organization has now chosen to support the project for the establishment of circular value chains within cage production in Norway.
Due to requirements for material quality that are regulated by a technical standard (NS 9415 (2009)), mainly virgin plastic is used in load-bearing structures in the cages. The project will challenge the standard, not by changing the requirements, but by proving that recycled plastic from a discarded aquaculture facility has the qualities to meet the requirements. AKVA group has already used recycled plastic on the walkways in the cage, but this project will make it possible to produce the entire cage based on recycled plastic from discarded cages.
Oceanize has extensive experience in collecting and recycling plastic from aquaculture and today delivers a carefully tested high-quality plastic granulate.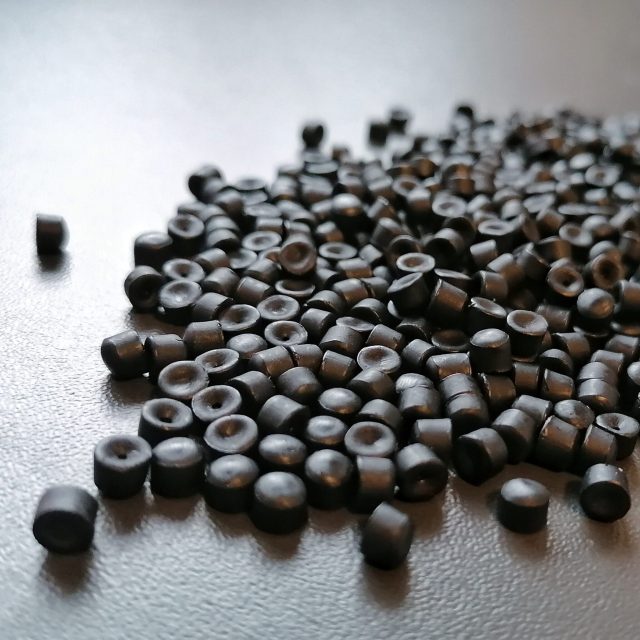 Granulated plastic. Photo: AKVA group
- The project is a major circular economic milestone. Now we get the opportunity to show the qualities of our plastic granulate. At the same time, national solutions like this are central in a sustainability perspective, says Trude Vareide-Giskås in Oceanize in a press release.
Up to 12,000 tonnes of plastic waste is generated annually from the aquaculture industry and the plastic resources are reused or collected and recycled. Potential climate savings from a national management of plastic waste is up to 50 million kilos of CO2 by preventing, among other things, the incineration and export of resources.
- Cages today are not a big littering problem, but there is a great potential for using the plastic in new cages. Here we will achieve short, national value chains as the project participants are all established in Norway, says project leader Trude Olafsen in AKVA group.
Helgeland Plast, a wholly owned subsidiary of AKVA group, produces the cages in Mo i Rana, Oceanize collects cages along the entire coast and has its granulation factory in Rørvik and Plasto produces parts for the cages in Åndalsnes. The basis for an efficient and national value chain is in place. In addition, AKVA group will be able to spread knowledge to other farming nations where they sell plastic cages.